Tony Meola is not only remembered as a soccer player for his contributions to the United States men's national team at two World Cups, but the goalkeeper is also recalled for his excellent captaincy that led Kansas City Wizards to winning the MLS Cup in 2000. Both for his club and country, through years of magnificent service to American sport, the Hall of Famer is a legend in every right of the word.
But having been out of frame ever since late 2007, when he famously led the New Jersey Ironmen to the playoffs of the Major Indoor Soccer League, where is he now?

Let's find out…

Meola was born to an Italian father in Belleville, N.J., and grew up in nearby Kearny. He went on to play for the University of Virginia, where he established a name for himself, eventually being picked for the U.S. U-20 national team at the 1987 FIFA World Youth Championship. Although the United States didn't get through the group stage past Germany, Bulgaria and Saudi Arabia, the tournament turned out to be a sufficient platform for Meola to announce his arrival on the international stage.

Growing up Meola idolized an Italian legend named Dino Zoff, the captain of the 1982 World Cup-winning Italy squad. He was then introduced to Hubert Birkenmeier of the New York Cosmos and the rest is history for the now 43-year-old Meola.

Meola made his debut for the United States against Ecuador in 1988 and played for his country in the qualifying games for the 1990 World Cup, including the famous 1-0 victory over Trinidad and Tobago which clinched the U.S. a spot in the finals. He featured in every game during that World Cup.

"The first time I represented the U.S. national team would have to have been my most memorable moment," he told Goal.com. "I can remember the feeling like it was yesterday and asking myself, 'Will this be the last time? This will ever happen?'"

His impressive performances for the national team landed him offers to play abroad, and Meola went on to have two brief stints in England with Brighton & Hove Albion and Watford before moving back to the United States. He went on to guard goal for USA in the inaugural Confederations Cup in 1992 and captained the 1994 World Cup U.S. team on home turf.

After the World Cup, Meola signed with the Buffalo Blizzard of the NPSL in 1994. Upon the creation of Major League Soccer, he was allocated to the NY/NJ MetroStars, for whom he played between 1996 and 1998, starting almost every game. He set a league record with nine shutouts in 1996. Meola was traded to the Kansas City Wizards in 1999 and led to the championship in 2000. His displays that established a record of 16 shutouts led to the MVP, Goalkeeper of the Year and MLS Cup MVP awards that year.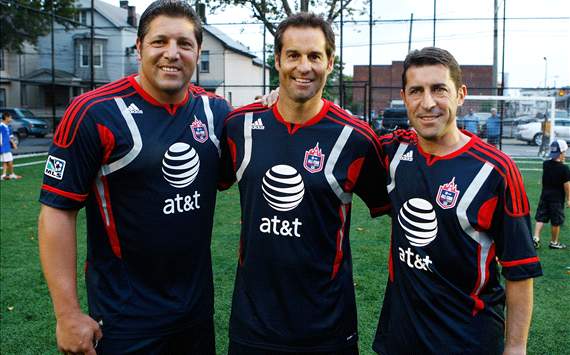 Tony Meola, John Harkes, Tab Ramos
Meola regards captaining the national team at the World Cup and winning the club championship as his primary achievements, saying, "At the club level, [the greatest achievement] was winning the 2000 MLS Cup with the Kansas City Wizards and for USA, it was as the captain of the team during the 1994 World Cup held in the United States."

Meola, the man who is often known for opening the doors for the likes of Kasey Keller and Brad Friedel, eventually dropped down the pecking order and became the country's third-choice goalkeeper during the 2002 World Cup in South Korea/Japan. In 2006, he joined the elite list of players by earning his 100th cap for USA. A year later, he signed with the New Jersey Ironmen and led the team to the playoffs in their first year.

Apart from his ventures on the soccer field, Meola has proven to be quite an all-rounder over the years and has not only starred in an off-Broadway play 'Tony and Tina's Wedding' and started up his own mortgage firm, but he has also been a part of New Jersey's hottest cover band, 'MUSHMOUTH', and tried out to be the place kicker for the New York Jets.

"For years I enjoyed playing with my old band MUSHMOUTH. It was an escape for me but now I only get to do it once a year at my annual fundraiser," Meola said. "Tony and Tina's wedding was an interesting 12-week run that I really enjoyed. It was something that just came about during a break and I jumped at the opportunity to do it."

Where is he now?

Meola now runs a company named 'Gk1 Sports' that he started in 2008, which looks to establish itself as one of the leading sports apparel and equipment companies in the industry. The company's products are developed by taking insights from players with professional experience, including Meola, who has always interested about the business side of sport.

"About four years ago I started a company called Gk1 Sports and have been working on its development since," he said. "It gives me an opportunity to learn about the business world as well as stay involved in sports at all levels from youth through professional."

Meola also sees himself good enough to return to the action, but this time on the sideline.

"I believe that one day I will doach at the professional or collegiate level in the United States at some point," he said. "I can also see myself in management but at the moment. I am enjoying what I do."

Meola's personal message to every boy that aspires to be Tony Meola is simply to "dream, and dream big!"

"I never thought any of these things would have happened to a kid from a small town in New Jersey but somehow with hard work and a belief in my ability," he said. "I was able to achieve great things in the sport I loved."
Goal.com